True, I'm very fond of my long-distance Leap Year client, Kevin Powe, an Aussie performer/producer. But how could I not be after working with him during the year that saw the birth of his first child?
Of course, that means that, technically, I had nothing to do with his most monumental achievement of those twelve months…
…but I did guide him through some other significant and successful shifts, including the transition to a new (and much more flexible and lucrative) "day job." (Diapers be expensive, mate.)
One project we undertook was a complete elevation of his online presence – including a new website and a new bio:
From his studio in Melbourne, Australia, international VO artist and actor, Kevin Powe, has lent his voice of villainy to video games and audio books worldwide.
But, never fear – under the extremely menacing goatee is a warm and versatile pro who has been known to break out his engaging, "nice guy" naturalism for commercial and corporate projects (when bribed with the right kind of chocolate).
Creator and voice of the animated sci-fi series Altered (in development with co-writer Peter M. Ball), Kevin is also the voice of Karen Fainges' multi-volume Shayton Chronicles novels and is featured in the trailer for Fractured Skyline, a new online cyberpunk strategy game.
Kevin lives contentedly in his booth home with his wife and brand new, amazingly precious bub.
HIS INTERVIEW
Play the video below to listen to my interview with Kevin about what it was like to have my guidance and support for a full year:
HIS WEBSITE
When we first began working together, re-doing his website wasn't actually on our agenda. What he had seemed serviceable and in alignment with who Kevin was.
But then, something happened… Kevin changed.
Once he began internalizing some inner shifts in mindset (ownership of his skills, strengths, and level of experience), and once we began executing plans to make the outer shifts in his career that he desired, it became clear that the visuals and copy on his website were no longer reflective of the person and professional he was transforming into.
The before and afters speak for themselves: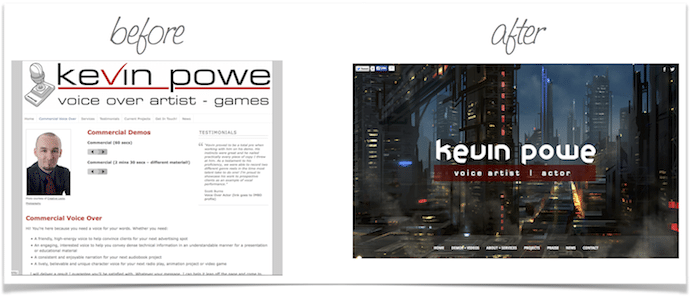 HIS SERIES
Kevin is dreaming BIG. (Another reason why I like him so much.)
We worked quite a bit on networking strategies and pitch preparations for Altered, an original animated sci-fi series which he co-wrote and intends to star in.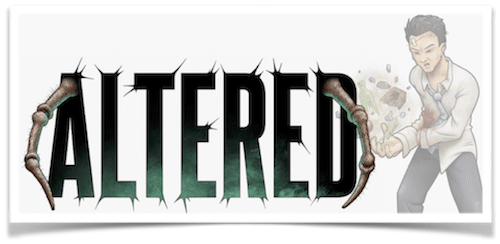 He's lined up some stellar voice talent behind the project and I had the pleasure of getting an early behind-the-scenes look at the show bible, concept art, and teaser trailer script for this project. It's going to be amazing.
You can follow the show's evolution here.
A big hug of appreciation to Mr. Powe – not only for putting his trust in me but also for allowing me to share his story with you. Thanks, Kevin!
(The photo at top is of the talented Mr. Powe working on his birthday.)
Best always,