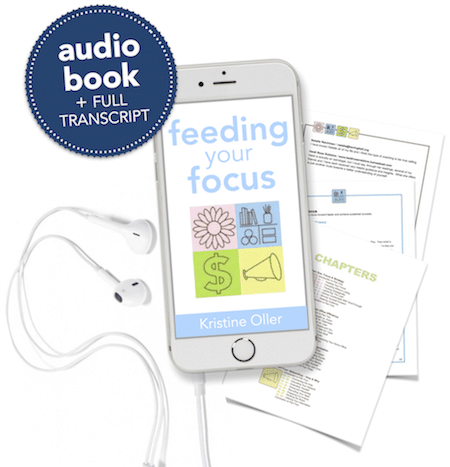 Feeding Your Focus
How creative people can move forward faster and achieve sustained success.
audio book: digital download as mp3 audio files + PDF of full text + a resource guide

Part 1: Focus and Strategy
How to build momentum and make decisions in your life and career.

Part 2: Home Office Efficiency
How to create a physical environment that supports you rather than drains you.

Part 3: Financial Organization
How to put a simple routine in place so you always "know your number."

Part 4: Networking: How and Why
How to start and nurture the relationships you want without feeling icky, intrusive, aggressive, or needy.
Please do not spend another drop of your time, energy, or money trying to build your career on shaky ground. It doesn't feel good, and, honestly, it doesn't work that well (if at all, really).
Building on shaky ground means you are working harder for fewer results (while other folks are whizzing along). Building on shaky ground means you are settling for a two-steps-forward one-step-back experience. Building on shaky ground means you are missing out on fully maximizing the opportunities that come your way.
No. More. Of. That. Unnecessary. Nonsense.
Instead, let's put a rock-solid foundation in place that will serve you for many years to come. But how, right? Cuz so many of the time management books, business books, and networking books are not written for us creative types – they don't apply to a life that usually has a crazy, unpredictable schedule… and abrupt shifts in employment… and wild fluctuations of income.
But I know that life. I've lived that life. And I wrote and recorded this audio book to help creative folks reclaim clarity, stability, and peace within that life.
This audio book (plus the full text as a PDF) will deliver practical and powerful guidance that you'll be able to implement immediately – whether you are taking the first step on your path or you are years into your journey.
Voice over actress Roxanne Hernandez shares why this audiobook is a must-have for all self-employed creatives:

I wish this book would have been written years ago – I could have gotten a lot farther in a lot less time.
It became a fight with my experiences to give this audio book a chance – my impulse being to brush it off as just another hymnal of cliched "duh" wisdoms. She's going to tell me how to be creative AND organized? Can you be both? But this book really does have merit. I found her offering mind-opening realizations about my life that I should have thought of on my own… but didn't. She really knows the problems of a disorganized, driven professional. She really knows good networking techniques. Kristine Oller will inspire you to direct your energy towards those things which give life to your future.
CHAD PIERCE
You're seriously my hero. I re-listened to your audio book again, and I took so much NEW stuff out of it! It's really helped me so much this year, particularly this month. I finally feel focused (which has always been my problem! LOL!) and driven and invigorated to get out there and make it happen! A sincere THANK YOU for all of your help, Kristine!
LISSETTE SCHUSTER
The bottom line is, without Kristine Oller my home office would never have gotten REALLY organized. I bought her book, listened to the CD's and learned a PROCESS to purge and organize my "stuff". In just one weekend I had given my place a complete makeover. For the price of an acting class (or a few tanks of gas) I now have an organized and functional home office, and more importantly, a system in place to maintain it!
THOMAS MANN
Kristine Oller has written a gem. Feeding Your Focus gives you tools you can and will use to change your thinking and organize each part of your professional life. More than just a beautifully written and well-produced book is included in this CD package; inside is Kristine's heart and soul. I found myself laughing out loud at some points, especially those that seems as though she had written them with me personally in mind. Her voice and message convey warmth and a deep understanding of what it takes to succeed as a professional in a creative field, such as voice acting. I loved this book and I have already begun implementing many of the steps Kristine outlines. This book is what I needed to propel my career forward and assist me in achieving my dreams.
ELISA WELLER
This is wonderful information! Feeding Your Focus helps those who may be struggling to get started by explaining the foundations for several areas that are critical to success. I found myself taking copious notes and listened to the CD's while reading along with the text. This helped reinforce the actions described in the book. After listening to all of the chapters, I feel I am better prepared to pursue my dreams. Several times throughout the book, I was so encouraged that I stopped the CD and began to identify my goals or organize my office!
TANYA SCHOENWOLF
O.K. This is insane. Kristine is giving you way too much stuff for whatever she's charging. This isn't one great information package, it's 4 great packages in one. Kristine exceeds the 'useful information baseline' in organizing your finances, getting your home office in ship shape, and even how to take complete and full advantage of all those parties you go to where you wish you could network better. It's insane because any one of these 4 sections could easily stand on their own and be worth more than what you'll pay for the whole shebang. Run, don't walk, to get this.
DAVID H.LAWRENCE
You are helping me through a huge transition in my life, so thank you. You took my organizing to a whole different level. I'm usually really good at it but the benefit of having someone with your experience guide me through makes things so much easier and dynamic – with both of us working on the project at the same time (you on the CDs!), it's so much fun. My desk is amazing and the paper flow system is right on time! I love looking at my empty or almost empty 'active' and 'inactive' paper bins – it's a high. Your CD series is excellent and I have been recommending it to others.
CHINA BROOKS
I have to admit, I honestly went in with some skepticism of 'is this really going to do anything for me?' …but I always come away with new ideas for it. Feeding Your Focus is not a static book – it's not something that you read and then put away. It's truly something that you reference and it continues to work long beyond the first time that you hear it. It's been a wonderful addition to my life.
PAM TIERNEY
When you read something there's a tendency to scan, but it's a different experience when you have the material on CDs – you have to actually make time and listen and that's a good thing. Feeding Your Focus is a constant refresher of what I could be doing. Before I would just kind of drift with the wind, but now I'm more selective and have a plan. I'm still flexible to the possibilities of life but now everything has a way of being evaluated regarding how it feeds my focus. Prior to discovering this book, I was the kind of actor who felt like my career was in the hands of my agents and others people, but now I feel like I'm living a more adult, proactive version of my life – one I knew I had in me, but Kristine helped me activate it.
HEATHER GONZALES
Kristine speaks in a language that takes the clutter in my brain and organizes it. It's like she took things that I knew – but didn't know that I knew – and showed me how to utilize them and make my skills and knowledge work for me. I now look at things more realistically and don't try to shove quite so much onto my plate. I highly recommend this book.
REBECCA BRUNK
I am on disk 3 and can't wait to get back into my car to continue listening! I'm overwhelmed (but not surprised) by the talent, wisdom, and power in your audiobook – you sound experienced and hip at the same time. And the breadth of info is provided with humor and compassion, which is so important for us embarrassed clutterbugs. I've already had some a-ha moments!
NANCY KERN
You rock lady! Your book has just absolutely beat me between the eyes several times and turned my world upside down – in the best possible way.
BOB SOUER
Kristine has a straightforward, practical, and, most importantly, ATTAINABLE approach to organization – for my desk, for my home, and for my brain. It's amazing how once I had applied just a few steps from her book it felt like a weight had lifted. I was making room for even better things! Kristine helped me use what I already had around in much more effective ways. And MY work is now working for me: what used to be labor has definitely turned to love.
ROY SAMUELSON
I have begun listening to Feeding Your Focus and WOW – I have to say, this book is incredible! Kristine is truly gifted and, at the price, this product is a STEAL. I think this may be the single greatest product I have ever seen for talent. She does a terrific job of teaching you how to run your business. If you've ever walked into your voice over office and asked yourself, "Now what do I do?" this is the product for you.
JULIE WILLIAMS
This is a wonderful resource filled with smart ideas and concise guidance. You've clearly identified the actions we need to take to make well-rounded progress. I'll be recommending it to my students and network and, of course, implementing a lot of good advice.
BRYAN BELLOMO
I'd recommend this book for any creative type to help with organizing and building their business and personal focus. Kristine's references to her own life as an actor helped me relate to her, and her voice over delivery felt personable and sincere – topped with a bit of sass and class.
BOBBIN BEAM
Sometimes I am guilty of spreading myself too thin and having too much on my plate. Like most creative people, I have strengths beyond acting that can often lead me in many different directions. I want to do plays, musicals, feature films, sitcoms, one hour dramas… everything! And I've been told that I need to just pick one and focus on THAT. And I haven't succeeded in doing so because part of me doesn't want to desert my other talents and interests.
But Kristine said something that really made sense. She basically said that you can keep all your talents and pursue everything you want to pursue as an artist BUT not all at the same time. Choose a focus, make headway in the industry in that specific area (build your machine), and then just maintain the 'machines' you build. Then you can move on to another focus/talent area and build more and more machines until you have a city of machines working for you! By following this simple idea, I plan to move my career forward faster and not overwhelm myself by trying to do every project that's thrown my way.
Also, I feel much less nervous about attending industry events and making connections with people. It's all about the human connection. Talk to them like they are just people; make a personal connection. Allow them to WANT to talk to you and get to know you better. This totally takes the pressure off!
KORKEN ALEXANDER