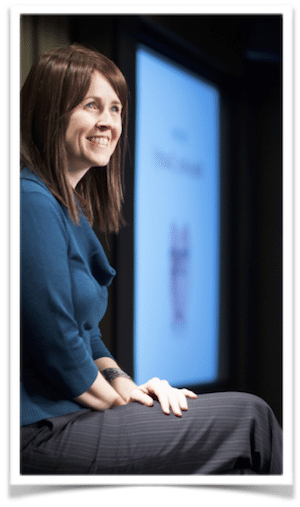 While I have given many prepared talks, I especially enjoy opportunities to coach live via Q&A and speak on panels because the spontaneous interaction enables me to tailor my teaching to address the audience's immediate concerns – which, I've found, makes for a more effective and compelling experience for everyone involved. 
Guaranteed: lively humor, abundant Golden Nuggets of guidance, and stellar feedback from your attendees.
I'd be delighted to discuss how I can best serve your audience – feel free to contact me and we'll schedule a time to chat.
POPULAR TOPIC
Revitalizing Your Personal Power
How modern women can shed some "rules" and create the capacity to answer what is calling them.
POPULAR TOPIC
Making Significant Shifts in Mid-life
How to navigate the complexity of your current life and reconnect with your focus, function, and flow.
POPULAR TOPIC
Creating Cash Flow for Creatives
How to develop and grow a lean, low-overhead, profitable side biz to help fund your artistic pursuits
These are the organizations that have invited or hired me to deliver lectures, workshops, webinars, teleseminars, interactive coaching, private group facilitation, and/or serve as a panelist.
** = multiple engagements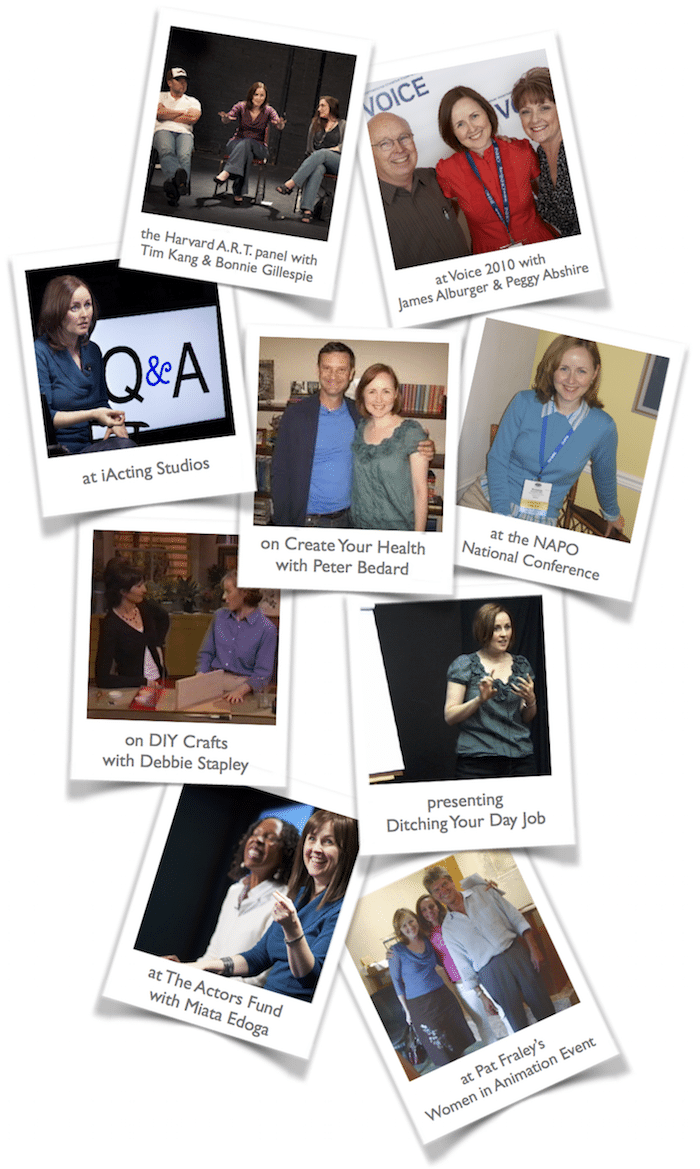 Abundance Bound **
The Actor's Fund **
The Actors' Network **
A.R.T. / Harvard **
Before and After'noon Movies (USA Network)
Beverly Hills Playhouse
Caltech **
CINELadies
City of Burbank
City of Glendale **
Creative Entertainment Management's clients
Cricket Feet Showcase alumni
Dallas Travers' Thriving Artist Circle **
DIY Crafts (Scripps' Do-It-Yourself Network)
The Hair and Makeup Artist's Network **
iActing Studios **
Int'l Radio Creative and Production Summit
Julie Williams' VoiceOver Insider Webinar Series
Linfield College **
Moms of Multiples – Pasadena Chapter
Mount St. Mary's College
NAPO – Los Angeles Chapter MET program
Organizers of Upland Group
Pat Fraley's Women In Animation Event **
Porter Kelly's Actors Mastermind
UC Irvine
UCLA **
SAG Conservatory
The Voice Actor's Business Group **
VOICE 2012 national conference
What's In Your Hand on WHCR 90.3FM New York **
Women in Film
Women in Theatre

"Kristine – you were a bona fide hit! You got great reviews from the attendees at your presentation. Everyone got something out of it and the evaluations were glowing. Employees Health Services is grateful and appreciative of your time and effort. Thanks again for your participation!"
Donna Workman Malcolm • City of Glendale

"Thank you very much for that wonderful [NAPO-LA] marketing workshop on Saturday! It was well worth the investment made, and I feel more empowered than you will ever know. You have helped to make one of the biggest challenges of my business make complete sense to me now."
Rhonda Webster • entrepreneur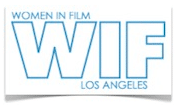 "Great [Women in Film] Master Class last night! Kristine, you are amazing, passionate, and talented. I'm looking forward to jumping on feeding my focus – as that has been a mystery I have been searching to solve. I truly had an 'ah ha' moment last night."
Jodi • producer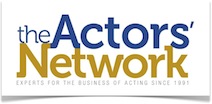 "On behalf of the entire organization we extend our utmost gratitude to you. It is a rarity in our current Hollywood to have an opportunity to enjoy the presence of such a giving individual. Your time spent with the members of The Actors' Network was highly effective, well received, extremely helpful, and deeply appreciated. Please know that if you ever want to speak again, just give us a jingle."
Kevin E. West • founder, The Actors' Network

"I was very impressed with the [Women in Animation] program that Pat had put together – adding your insights to the roster just blew me away. The industry has changed enormously and having someone like you, with your knowledge and expertise, giving the women the real skinny was something I consider vital. You gave those students the zeitgeist for their class: show business is a business. And it must never be treated as a hobby. And if you are not a business woman, you are in for a difficult time. I enjoyed your comments and, as you can see, could not contain my enthusiasm for your opinions!"
Candi Milo • voice over artist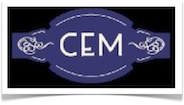 "Great seminar Thursday – thank you so much for doing that for our talent!"
Stacey Stahl • owner, Creative Entertainment Management

"Kristine, thank you SO MUCH for your seminar. It was exactly what I needed to get moving forward with a pragmatic course of action. I just quit my day job, so the timing couldn't be more perfect! I think that's the most valuable two hours I've ever spent on a Sunday! Thanks again!"
Porter Kelly


"You were so great on Sunday: charming and sharp and fun! It was really incredible to hear your descriptions of yourself back when you were scared of networking. To see you describing me to a tee and yet standing there being just the opposite – it was really inspiring."
Nancy Schofield


"I am soooo glad I was there today! I was worried about 6 hours in a room, but you made the time fly by, filled with info and insight. You have a dynamic personality that is so easy to listen too. And you have a great gift of being both an expert, but also empathetic. Not talking down to us. It's like getting directions from someone who just came back from where I want to go."
Obediah Thomas


"I cannot thank you enough for what an incredible experience Sunday was for me. I left feeling on top of the world and, at the same time, completely connected to those around me. It was truly a special day and I am so grateful that you wanted me to be a part of it! Blew all of my expectations out of the water!"
Vanessa Koman


"Thank you for your incredible seminar today!! I've already practiced what you taught by meeting new people and contacting HOT LIST, WARM LIST, and COLD LIST people that I haven't talked to in years using your line 'I was thinking about the people who have really helped me in my life and your name popped into my head' – BRILLIANT!!"
Kris Kelly


"Your talk today at TAN was fantastic! I was actually praying I wouldn't have an audition because I didn't want to miss it!"
Lindy Loundagin


"Just wanted to tell you again how much I enjoyed the workshop today. I found it really useful for focusing my goals toward a single trajectory (which really helps with the feeling of overwhelmedness this town can give you!)"
Celia Finkelstein


"Hmm, you are Super Fab! You are such a great presenter… I knew this but this was a bit more formal & guurl… you ROCKED IT!!"
Missy Hairston


"Thank you so much for sharing your expertise with all of us on Saturday as well as offering a generous extension on your coupon. I just downloaded your book today and am already inspired. I've felt rather stuck lately in regards to many areas of productivity and the double dose of both the seminar and your book seem to have done the trick!"
Alyssa Presston


"A great seminar today – it pretty much reaffirmed that I'm taking the right steps with regard to my career. There's room for improvement, of course, although it seems I'm headed in the right direction. Good to know! The people I invited had a great time, too. Very nicely done!"
Sokrates Frantzis


"I just wanted to say Thank You for all of the helpful information you included in your seminar. It was exactly what I needed right now and I have already put your suggestions into effect."
Erin Coatney


"Thank you so much for our wonderful conversation yesterday. You have a way of getting right to the heart of what matters and I truly appreciate you sharing that gift with me."
Marc McTizic


"Although I feel overwhelmed on a daily basis, I don't work right now because I'm a full-time mom and a part of me was wondering if there was any point in going to the Your Leap Year seminar. How was I ever going to work when I was feeling so bogged down by daily life? My goal is just to get through the week. But I was curious, and I have been a fan of Kristine's for a while. Boy am I glad I went! I've read many self-help/success books, and usually feel educated but still lost afterwards. But this seminar was unique. It addressed just about every obstacle to success in a clear and concise way and how to overcome each of them. It was logical, practical, and easy to apply. And I left with tools to last a lifetime. Kristine has become a success expert. And she has an incredible knack for understanding people. I left the seminar feeling excited about this year, not overwhelmed at all, with a plan to move forward in my life and incorporate creative projects in the near future. I would recommend this seminar to everyone, no matter business they are in, and even if they are a stay-at-home mom."
April Sugarman


"Thanks so much for letting me take part in your seminar today. It felt like my pilot light just got relit and now it's time to START COOKIN' here in L.A.!!! I really appreciated your methodical breakdown of each segment of the process. And how each step was backed-up with a 'how to'. Sometimes I don't realize I need it spelled out for me until it's…well, spelled out for me. As you mentioned, so many books and seminars teach you to create goals. Yes, I can write those overarching ideas down and pin them up on my wall but what really works for me is your emphasis on how those goals, while justifiable, are simply roads to a much more specific FOCUS."
Mark Atherlay


"I just wanted to thank you so much for yesterday. I really appreciated the time, organization, and energy you put into your presentation. It was very helpful and it makes sense. It always feels overwhelming and that you can't cover all bases when it comes to a career pursuit in the acting field. I have also recently been in line with needing to plant a 'bean stalk' in one pot by finding my focus. I loved your energy and a lot of the imagery and analysis you brought. Sometimes it feels empowering that we steer our own ship and other times it feels scary. But the way in which you present things, it seems like there is an efficient and productive way of getting ahead or making progress. So, even though I wish I had been on the more organized and productive track over the years, it is never too late to start now."
Karen Pellant


"Just wanted to express a sincere Thank You and FANTASTIC JOB on today's Organized Pursuit. You are truly one of the best speakers I've ever seen and, as I hope you know, you possess an amazing talent for what you do. I am sincerely inspired by your work and your ability to pass along your information to others in a manageable, well-thought out format. Can't wait to see where this takes you in your future. Please keep up the good work and know that you're affecting people in ways that you're probably not aware of. Great job."
Katie Swain


"When I was telling my roommate about yesterday and about Your Leap Year seminar last year, I said: 'It was really inspirational. Kristine brought together some really amazing ladies. She is great at helping you plan your year because she makes time management fun and easy! She gives you really helpful tips like creating a theme for your year to help define your focus and zero in on what you want to accomplish.'"
Rayshell Curtiss


"Thanks again for the great seminar! I enjoyed it have started putting my focus into action – good stuff! I recommended your seminars to a few folks in my class last night and will continue to do so in the future."
Bill Lippincott